Language school marketing is nuanced and essential to get right. What's the number one killer for language schools? Not being able to attract enough new, quality student prospects. This article aims to provide helpful, practical tips, ideas and strategic advice on marketing.
There are 7 key areas to get right:
Develop an Effective Marketing Strategy
Build Trust Using Social Media
Leverage Content Marketing
Optimise Your Website
Sell Like a Professional
Advertise Effectively
The Power of Personal Recommendations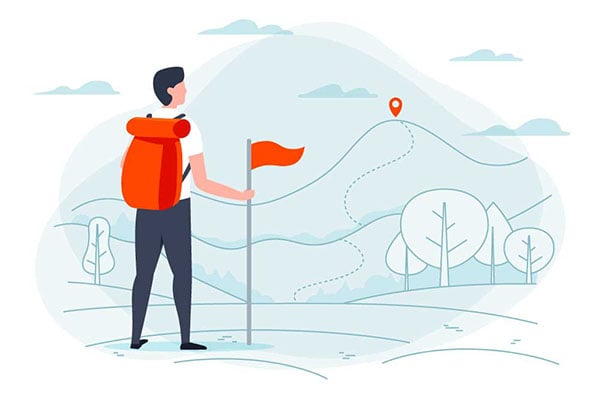 Develop an Effective Marketing Strategy
Without a strategic plan to find and attract new customers to your online language school, you'll squander your time, money and effort.
Your language school's marketing strategy should be very clear depending on your audience, offer and marketing channels.
The market for teaching English, and other languages, is competitive. Trying to go after the same broad audience as the large players in language education is a difficult, expensive and painful approach. The best way for language schools to stand out is to choose a niche and speak to that niche audience better than anyone else (through branding and marketing).
The largest online language schools (whether B2B or B2C) are going after the biggest markets possible in order to sustain themselves. This makes them unwilling to pursue smaller niche markets and gives you a real advantage. As they say, "there are riches in those niches".
When you know the target market for your language school, it makes your offer so much clearer and makes it so much easier to market to that target market. You will want to think about differentiating your business and ensure that your offer suits you ideal customer at every part of the buyer's journey. This is where you will want to understand and form your buyer personas and then think through the pre-, during- and after-teaching experience that you offer to ensure it matches your ideal students' needs and desires.
Finally, with a clear understanding of your audience and offer, you should have a clearer idea of what marketing channels will be best for you and how to stand out. It is adviseable to constantly experiment with your chosen channel in order to challenge your status quo and validate or improve the way you market to your audience.
One resource you make find helpful is the "Lean Canvas" model to write up a one-page business plan that clearly explains your language, or corporate language training, business and listen to this episode of the 'Get More Students' podcast to dig deeper into how to develop your marketing strategy.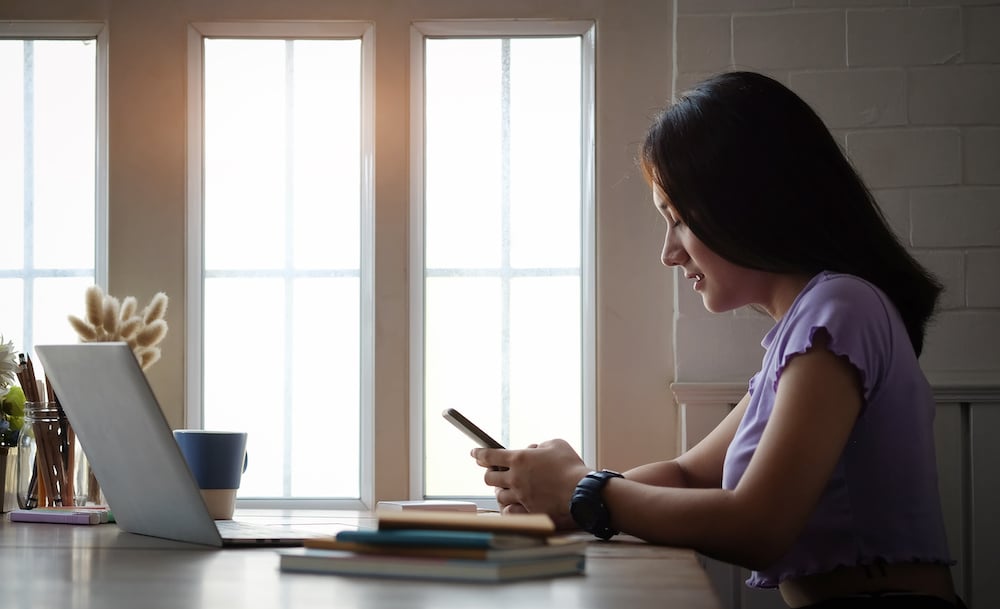 2. Build Trust Using Social Media
Social media enables language schools to connect and build relationships with customers, students, prospects, and influencers anywhere in the world. While business owners are no longer able to rely on social media for free or cheap organic traffic, as in the early-days of Facebook and Instagram, it is often relied on by students to find social proof (evidence that others have tried and liked your service) and can help you educate and build trust with your prospects.
"Opinions on social media, posted by friends and strangers alike, have more influence on purchase decisions than factors…like advertising and pricing." (credit to Social Pilot).
You need to know your ideal target customers ('buying personas') in order to know which platform to focus on. Think, 'Where is the "watering hole" for my ideal prospects and/or students?'
Learn about the different social media platforms and how you can leverage them to boost your language school using the resources listed below:
Remember, social media platforms reward those who post frequently and consistently add value to their followers.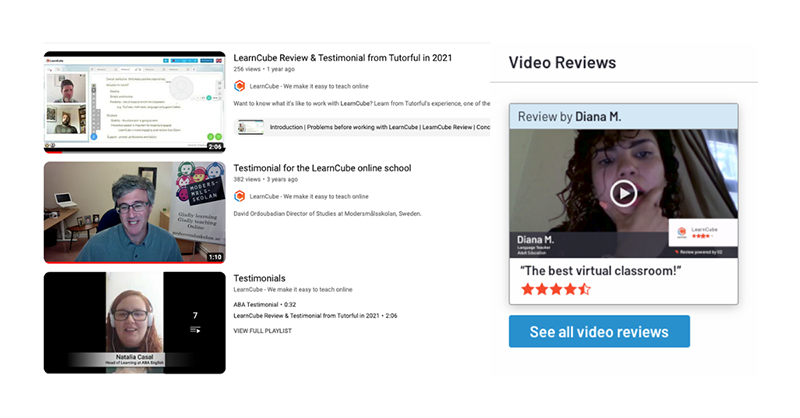 3. Leverage Content Marketing
Content marketing can be defined as "the process of publishing written and visual material online with the purpose of attracting more leads to your business. These can include blog posts, pages, ebooks, infographics, videos, and more."
Content continues to be a powerful, and often ost-effective, way to promote your language school and boost your social media strategy. Crafting 'on-brand' and impactful content will build trust with your prospects and make it easier to eventually sell to them.
To teach you about how to succeed with your content marketing, watch this video with Korinne Algie who answers these critical questions:
What is the difference between content and content marketing?
How often should I post?
How much do I need to invest?
What kind of content works for language education providers?
How to build a content marketing strategy?
What free tools can you use to measure results?
When should I post?
How often should I post?
How do I create a consistent company brand online through social media and content marketing? Any practical tips for language schools?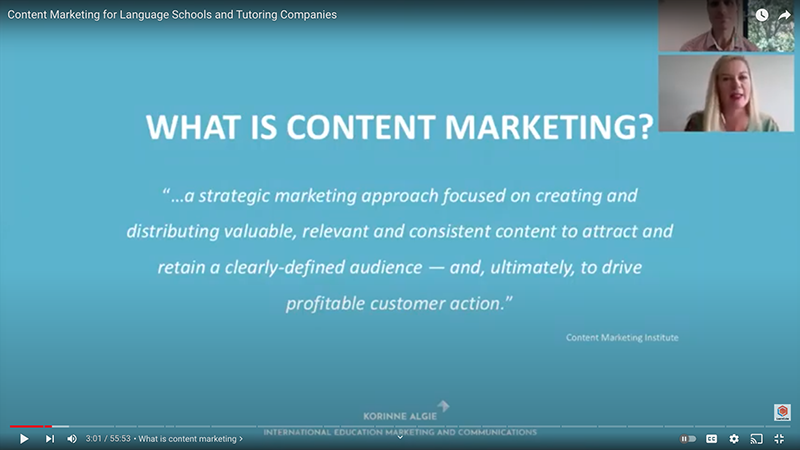 4. Optimise Your Website
Your website is usually the first place students go to get to know your language school. It is very much like the "shop front window" of your business where you can instantly communicate what you offer, how you offer it and what makes you stand out. This makes it exceptionally important and well worth investing in.
Think about how the window displays on physical shopfronts attract or repel you as a potential customer…
Currently, what does your website (or lack of website) say about your language school? Does your website include these 4 must-haves:
the language is clear, simple and compelling to potential students,
the site is easy-to-navigate,
the images and aesthetics of the website are believable and match the same high standard of your classes
You have included social proof.
Don't forget about pricing either. In a competitive market, and where competition is global in the online world, you may need to adjust your pricing, or give additional benefits to your program to attract enrollments. In some case you may need to reduce your prices. In other cases increase them.
How about starting simply with this video on how to create one with one of the free website-building tools available?
5. Advertise Effectively
There is a point in every language school where growth cannot be achieved through organic growth alone and you need to think about advertising. If you can work out a marketing system where for every dollar you invest, you get back two, you will have significantly improved the value of your language school.
There are some key do's and don'ts of effective advertising education which are explored in this presentation with Herbert Gerzer.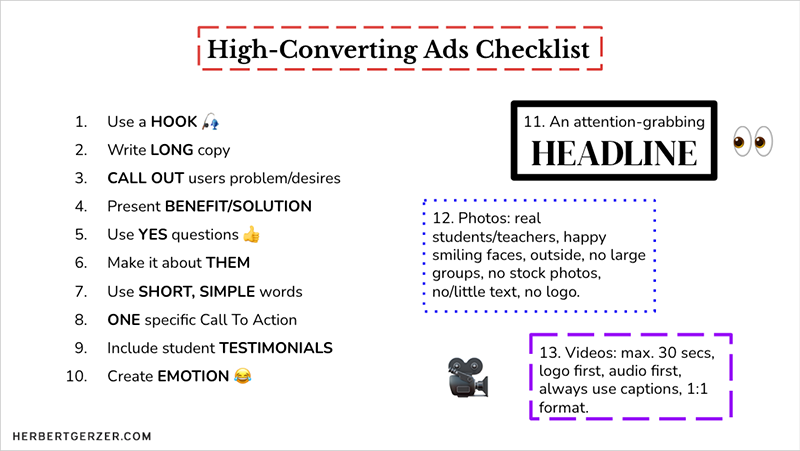 At minute 26, Herbert goes through this High-Converting Ads Checklist:
Use a HOOK
Write LONG copy
CALL OUT user problem/desires
PRESENT benefit/solution
Use YES questions
Make it about THEM
Use SHORT, SIMPLE words
ONE specific Call to Action
Include student TESTIMONIALS
Create EMOTION
In order to ensure your language school is resilient, and recession-proof, you will want to test a number of different advertising channels and strategies. We deep-dive into advertising in this podcast episode if you'd like more detailed advice and if you'd like step-by-step guidance on how to advertise on Facebook, one of the easiest paid channels to try, watch this video.
Finally, and before you spend your time and money on advertising, ensure the service you deliver encourages students to recommend your school to family and friends.
6. Close Like a Professional
Selling (and closing) is sometimes seen as a dirty word in education but selling is critical if you want to help more language learners.
To dig into this subject, we'd recommend watching this video with one of the best in the business, Nicola Lutz (note to skip to Nicola's section starting at minute 22). Nicola covers:
How to start the conversation
The power of the "follow up
See where you are
See where you lose customers (and improve).
7. Don't Underestimate the Power of Personal Recommendations
Personal recommendations are still the best form of advertising for increasing your enrolments. Alex, CEO of LearnCube and co-host of 'Get More Students' podcast, has interviewed hundreds of language school owners about where they get their customers. 96% of them note that word-of-mouth is one of their top 3 marketing channels.
Ask yourself these questions:
How do you make it easy for your students to recommend you?
How can you encourage friends to start studying together?
How do you ensure that your student experience is worthy of a referral?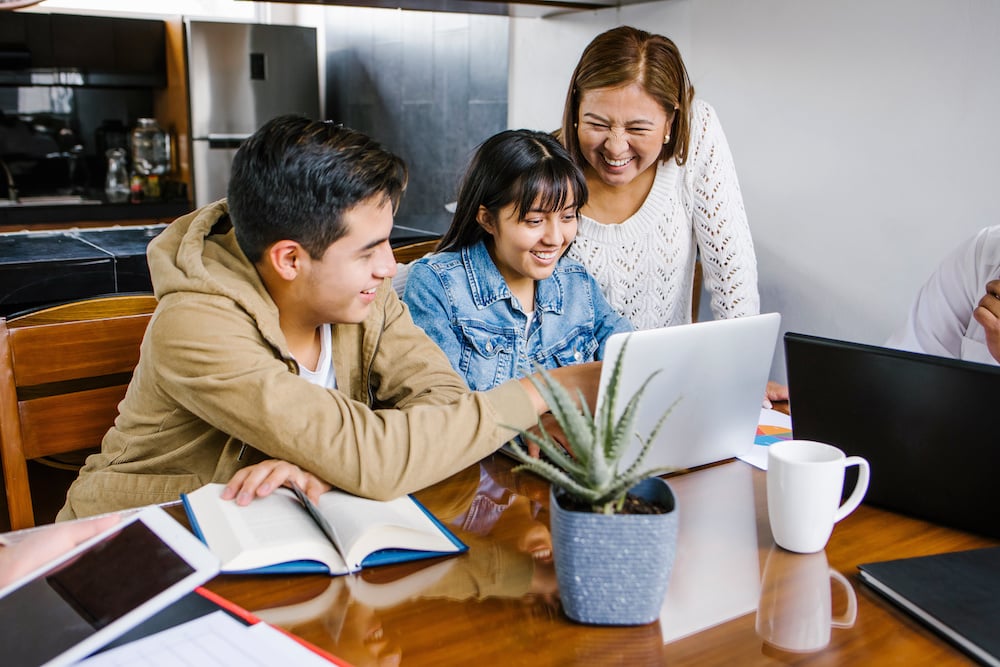 Encourage friends and families to learn together
Friends who study together not only get better academic outcomes but study for longer.
How can you encourage friends to start studying together? Offering a family and friends discounts can increase enrolments and improve language proficiency. Ideally, this leads to a 'virtuous cycle' where the students (and friends) encourage one another to succeed and are left with positive experiences to share.
Make it easy for your students to recommend you
You can use these survey templates to identify those who could be willing to recommend your language school.
Use these surveys to highlight your most likely evangelists and only approach those who you are confident will provide a 5-star review to do so. You can tune into this podcast to learn more about how to go about asking for reviews and testimonials but it is essential to be clear on which sites you want the student to review your language school, the kinds of feedback you'd appreciate and that you need a 5-star rating (unfortunately anything lower than a 4-stars could do more harm than good).
P.S. One helpful tip is, along with the end-of-course survey, to ask the student for the contact details of one friend who might also appreciate your language teaching services. Asking for the contact details of who they would recommend, is a simple and easy way to find new students.
Student experience vs academic outcomes
Before you spend your time and money on marketing, ensure the service you deliver is worthy of students to recommend your language school to family and friends. You might want to evaluate whether your students are attaining their goals, what value-added services can you offer, your teachers' performances and your pricing structure.
Before the course starts use this Start of course survey template
Then at the end of the course, simply ask if the student would recommend your school. Asking for the contact details of who they would recommend is and simple and easy way to find new students.
After the course finishes use this: End of course survey template
Other things you can ask a customer is, did they attain the language proficiency the hoped for? Did they enjoy the overall experience of learning at your school. If the answer is yes, to both or either one of these they are likely to recommend you. If no, how can you improve your students' language proficiency and enjoyment of the delivery of your curriculum.
One tip for students to increase their language proficiency is to watch movies and TV shows and/or listen to radio and podcasts in the language they are learning. You could set one of these avenues of learning as a homework task and discuss the program during class time. One survey showed that students considered TV/radio/podcasts as the second most helpful avenue for learning a foreign language.
Alternatively, if you notice that some students are not keeping up with the rest of the class. You can tutor a group of these students in the virtual classroom for after hours' tuition. They will appreciate this extra care.
Finally, remember that your teachers are your best ambassadors.
The importance of good teachers
Teachers will increase the likelihood of a student's recommendations more than almost any other factor, so don't underestimate their influence on the student experience and invest in your teachers.
Provide teachers with training, support, professional development and the right virtual classroom technology to deliver the best possible online teaching experience on behalf of your school.
With the LearnCube Virtual Classroom your teachers can live anywhere in the world. The benefit of this is that the teachers can be in a comparable time zone to your overseas students and at a cost that may be more competitive.
Final Tips Before You Go
The language marketing tips in this article will help you build strong foundations for your language school (a clear marketing strategy, targeted social media presence, authority-building content, high-converting website, robust advertising channel, professional sales process, and system for orchestrating recommendations) but remember that this will take time and a lot of trial and error.
If you do find yourself getting stuck with marketing, you can find ideas, inspiration and motivation with these 3 additional resources:
The LearnCube Blog
The LearnCube YouTube Playlist on How to Market Your Language School
And if you'd like access the "Get More Students Booster Course" for language schools emailed to you over 6 weeks, just email [email protected] with 'Marketing Booster Course' in the subject line.
---