A recent ICEF Monitor report outlined the challenges of the UK English Language Training market, despite having the second largest market share after the US their growth rate is declining. Earlier this month a report from English UK revealed that while the UK has the largest student numbers (in 2014 there were 580,618 students enrolled at English UK's 479 member centers).
Around 44 per cent of the students at private sector schools come from Western Europe. Despite an already a strong prevalence of English spoken in Western Europe's non-English speaking countries.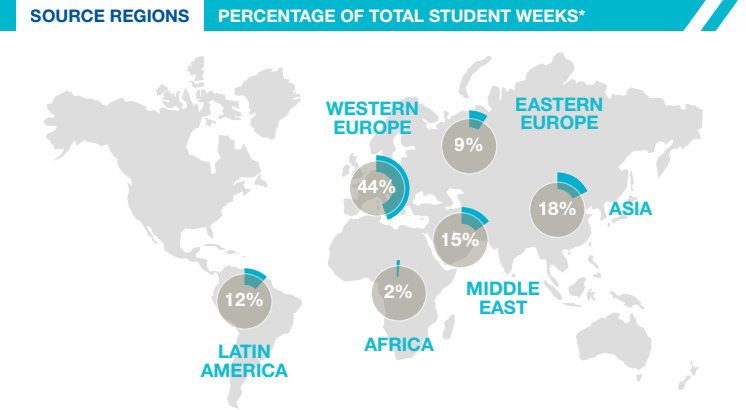 Source: English UK
In 25 EU countries English is on average the most widely spoken foreign language. "Very good" knowledge of English is particularly high in Malta (52%), Denmark (44%), Cyprus (42%) and Sweden (40%) … but low in Russia, Spain (12%), Hungary (14%) and Slovakia (14%). On average in 2012, 38% of citizens of the European Union (excluding the United Kingdom and Ireland) stated that they have sufficient knowledge of English to have a conversation.
The top 5 source markets for UK ELT providers were Italy, Spain Saudi Arabia, France and South Korea.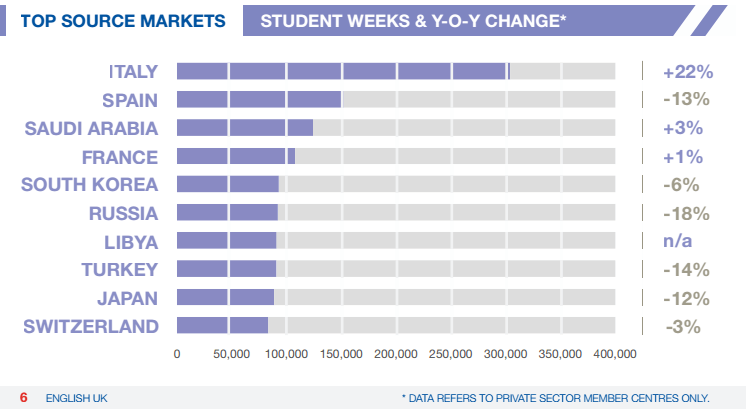 Source: English UK
Despite Italy's 22% growth rate the other countries show small or negative growth in student weeks.
In the UK the average length of stay rose slightly in 2014, up to 5.67 weeks for adults and 3.3 weeks for juniors. For adults, this was the first increase after five years of decline. The average number of course length total average is still only 4.1 weeks. This is mostly due to the increase in junior enrolments, which increased from 25% a decade ago to 47% in 2014. Junior programs have much smaller course lengths. Interestingly students from Saudi Arabia have a higher average, with a stay of 8.6 weeks.
Though the US and UK have the lion's share of student enrolments, a different pattern emerges when comparing course length and market share.
While the US and UK have over previous years attracted more overseas students, mostly due to the prestige of their universities, Australia is increasing its share of international students, overtaking Canada as the third most popular destination. Significantly New Zealand in 2014 had an increase of 13% over the previous year. Increase in Chinese students in NZ was up 12% while India's increase in enrolments was up a huge 62%.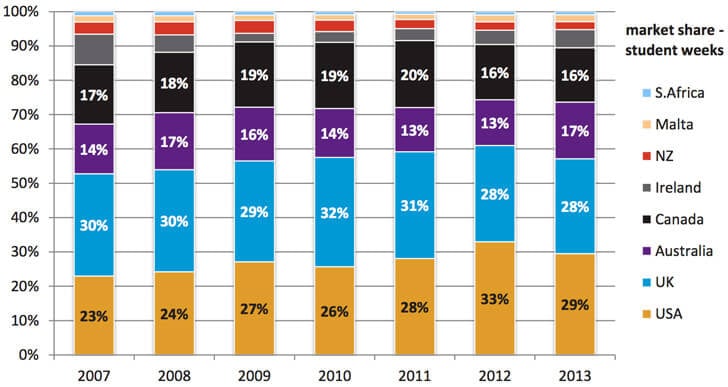 Source: English Australia
The length of the course directly correlates to the market share and since 2011 the UK market share has been declining from 30% to 28% of total global market, while Australia has been increasing from 13% to 17% due to their average course length being much higher at 12.9 weeks.
In 2013 the UK average length of English Language Courses given by English Language Training providers was only 4.1 weeks compared to 14.1 weeks for US and 12.9 weeks for Australia. For the same year UK's market share was only 28% despite having 50% of all overseas student enrolments.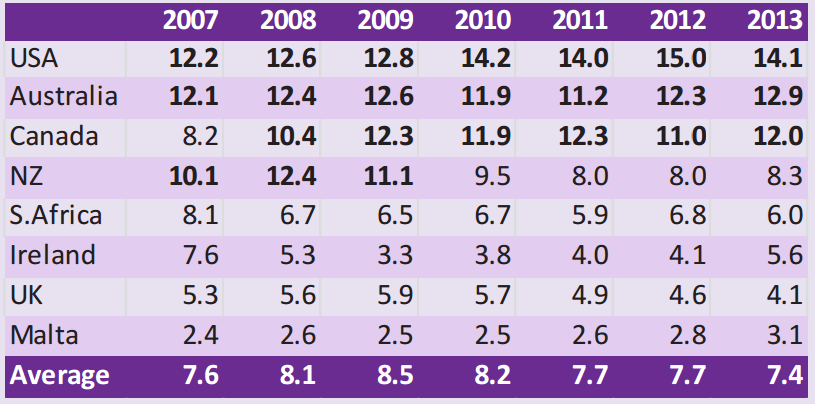 Globally China and Brazil are the largest consumer markets for English language learning, they are under-represented in UK ELT schools. African countries like Zambia, Zimbabwe and South Sudan have recently made English the official language despite only 3-4% of citizens being fluent in English, which is another market that would be worth exploring
Though Western Europe remains the most important region for UK ELT providers, other emerging markets are under-represented and are being taken up by other English speaking countries. In particular Australia and New Zealand are increasing international student enrolments from major Asian markets such as China and India.
The UK ELT enrolment breakdown "is facing strong competition, in other key regions. This is particularly the case in high-growth markets in Asia and Latin America, which account for 36% and 16% of global ELT bookings respectively. (ICEF Monitor 26 August)"
English UK intends to address this challenge with a number of promotions: Annie Wright, deputy chief executive for business services, says the findings are being used to shape English UK's promotional activities:
"Highlights of English UK's plans include our autumn road show and summer inward mission targeting agencies in the competitive Chinese junior summer school market; English UK Fairs in China, the United Arab Emirates, Mexico and Vietnam; the launching of new market reports on Mexico and the Gulf States in partnership with the British Council; and direct channel and agency-facing campaigns in Brazil, other Latin American countries and Western Europe."
The UK ELT providers need to include more strategies to stop the sliding of its market share. The cost of it courses compare to other providers in English speaking countries are the highest, yet the number of average student weeks is second lowest. They will need to find more cost-effective strategies to remain competitive with other countries.
At LearnCube we are working on specific strategies for helping Language Schools increase enrolment periods by extending offline courses online. Find out how we are helping language schools triple language student enrolment lengths.
If you interested in teaching English online have a look at our Virtual Classroom software or Virtual Language School software.
Read more about the benefits of Teaching English online
---